Živeo glas, živeo Viva Vox
Kraj marta spremio nam je, sem dolaska proleća, a možda baš i tim povodom, pregršt
sjajnih muzičkih dešavanja. Sinoć smo, kao početak ovog sjajnog niza koncerata, u Nišu imali dva koncerta, Škrtice i Viva Vox, i situaciju da čovek ne zna gde bi bre. Na koji god koncert da krenete znali ste da ćete uživati ali i da će vam biti žao što ste propustili onaj drugi. Mi smo se teškog srca odlučili za Viva Vox i naravno sjajno se proveli.
Neposredno pre koncerta održana je pres konferencija na kojoj su Boris Balunović, Marko Čapljić i Jasmina Lorin razgovarali sa novinarima o svojim ranijim koncertima u Nišu, o ovim najavljenim, ali i o planiranim koncertima za leto u regionu. U momentima kada je novinarima ponestajalo pitanja članovi čuvenog hora su okretali uloge i postavljali pitanja novinarima. Ukratko, veoma prijatnih dvadesetak minuta tokom kojih smo saznali da
su Vox-ovci bili prijatno iznenađeni činjenicom da su prvi koncert rasprodali za nekoliko sati, da onako stidljivo razmišljaju da jednom probaju da napune i halu Čair, kao i da je, uz Beograd, Niš grad u
kojem su imali najbolji prijem kod publike, ali i da su im koncerti redovno rasprodati gde god da pevaju.
Početak koncerta je bio najavljen za 21h, ali je zbog ogromne gužve na vratima Doma Vojske početak ipak kasnio pola sata. Oko pola deset, kada su se popunile stolice u sali, hor je izašao na binu praćen jakim aplauzom.
Viva Vox i Nišlije se dobro poznaju, sinoć su se družili treći put u dve i po godine, neki su išli i na koncert u Areni, ali, ma koliko puta ih slušali, kada
zapevaju telo se samo naježi usled zvučnih nadražaja, tu nema pomoći sve i kad bi je neko hteo.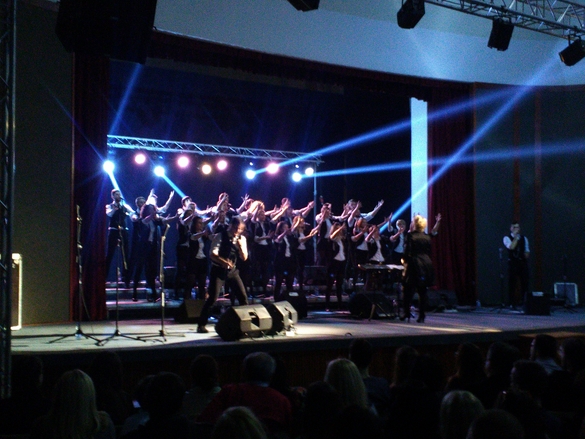 Među prvim pesmama našle su se Baba Yetu (Oče naš na svahili jeziku), Srce (EKV), Libar (Džiboni) i Ameno (Era). Odmah se videlo da nema tempiranja kako bi atmosfera rasla kako koncert odmiče, krenuli su iz sve snage i odmah pokorili publiku. Svaka pesma je ispraćivana snažnim aplauzom i vriskom, a svaki solista pravim ovacijama. Nastavili su sa ništa manjom energijom, smenjivali su se žanrovi i ritam, Queen, Beyonce, Depeche Mode, da bi nakon nekih sat vremena dirigent hora, Jasmina Lorin, više
u šali nego u zbilji publici rekla kako je to sve za večeras na šta je publika odgovorila horski snažnim "NE" i osmehom.
Do sledećeg, nešto ozbiljnijeg pokušaja da se završi koncert proteklo je malo više od pola sata a za
to vreme smo uživali u uvek odlično prihvaćenoj Du hast (Rammstein), ali i u pesmama grupa Prodigy, The Monkees… Ubedljivo najveće simpatije pokupio je Vladimir Vlada Lalić izvodeći pesmu Killing in the name (Rage against the Machine). Sa puno skakanja, padanja, mahanja stalkom i obaranja istog i glumom uz reči pesme oduševio je publiku koja ga je za trud nagradila gromoglasnim aplauzom. Upravo je njegova izvedba uspela da isprovocira ljude da se podignu iz stolica i da se i na taj način zahvale horu na večeri za pamćenje.
Usledio je improvizovani bis i nezaobilazne The show must go on (Queen) i Always look on the bright side of life (Monty Python), Viva Vox je iz tona u ton davao omaž ljudskom glasu, a publika je zdušno pomagala davajući im ritam. Kad smo kod ritma moramo da spomenemo i neverovatnog Tihomira Jovanovića koji svojim nemogućim bitboksom predstavlja temelj svake pesme.
Na kraju, da zaokruži dva sata uživanja, na drugom bisu hor je baš kao i prošle
godine koncert zatvorio pesmom Hajde Jano. Usledile su ovacije upućene beogradskom horu koji je polako odlazio sa bine.
Inače da napomenemo da kako su na pres konferenciji objasnili da će drugi koncert, 26. marta, biti po repertoaru isti ovom kako bi ljudi na oba koncerta mogli jednako da uživaju, u izveštaju se našao manji broj otpevanih pesama ( i neće biti plejliste) jer ne želimo da kvarimo zamisao članova hora i iznenađenje u publici.
Ono što je sigurno je da će Nišu za koji dan Viva Vox opet doći u goste i da će ispunjena sala Doma Vojske uživati u sjajnom koncertu. Svima koji budu tamo želimo lep provod.