Dom vojske bio je premali za sve one koji vole Massima, ali ipak je, bez sumnje, najpogodniji prostor za održavanje koncerata ovakve vrste. Massimo je jedan od retkih koji nikad ne razočaraju. Tako je bilo i sinoć. Na bini je
pored srca ostavio i svoj čarobni glas.
Kišoviti martovski dan kao da je usporio ljude te se sala Doma vojske napunila tek oko 21 čas, a ubrzo nakon toga
na scenu je, sa gitarom u ruci, iz mraka stupio Massimo. Početak koncerta bio je omaž nedavno preminulom Dejvidu Bouviju, kako sam Massimo kaže, idolu i uzoru njegove generacije. Uz pesmu God Only Knows, Massimo je otpevao i delić pesme Malena grupe Idoli, u znak sećanja na jednog od simbola novog talasa Vladu
Divljana. Nakon toga je usledilo predstavljanje članova benda, a koncert je nastavljen u maniru novog talasa pesmom Sjaj u tami nekadašnjeg Massimovog benda Dorian Gray. Ova pesma jedna je od retkih starijih iz Massimovog kataloga koja se sinoć našla na set listi, ali opet u nešto svežijem aranžmanu poznatom sa prvog dela Vještine. Ono što smo sinoć slušali bilo je pretežno iz poslednjih deset godina Massimove karijere. Repertoar ovog koncerta se značajno razlikovao od onog koji je održan pre dve godine na istom mestu. Nije bilo ni popularnih obrada koje su rado slušane na Massimovim koncertima.
Govoreći o tome kako najbolji prvi odlaze, Massimo je pomenuo i Arsena Dedića
kao najvećeg od velikih, a veličinu i besmrtnost njegovog dela dočarao je pesmom Da mogu
koju je Arsen napisao za jedan od Massimovih albuma.
Bila je ovo prava klupska svirka, ali samo u pogledu lokacije i prisnosti publike i izvođača. Sve ostalo bilo je na nivou velikih koncerata. Sa bine se čulo blaženo savršenstvo, a emocija nikad nije prelazila u teatralnost ili laž. Koncert je obeležila i jedna uspešna prosidba na balkonu sale Doma vojske. Činilo se da muzičari ovaj detalj nisu mogli da uoče, verovatno zbog razdaljine i osvetljenja, ali veći deo publike je to opazio i pozdravio ovacijama i aplauzom.
Regularni deo koncerta zatvorila je pesma Krug u žitu. One starije pesme bile su rezervisane za bis. Neizostavni Stranac u noći podigao je publiku na noge pripremivši je da Zamisli život u ritmu muzike za ples. Jedno veličanstveno muzičko veče završeno je u velikom stilu,
upravo onako kako je
i počelo. Puna dva sata bili smo deo nečeg lepšeg, bili smo izvan uobičajene svakodnevnice, daleko od dosadne kiše koja je i dalje padala.
Set lista:
God Only

Knows/Malena (David Bowie/Idoli)

Sjaj u tami
Razlog
Ispod nekog drugog neba
Sretan put
Tišina
Da mogu
1 dan ljubavi
Kladim se na nas
Ne dam grijehu na tebe
Iz jednog pogleda
Suze nam stale na put
Dodirni me slučajno
Indija
Odjednom ti
Zar više nema nas
Krug u žitu
Stranac u noći
Zamisli život u ritmu muzike za ples
Novinar: Stavan Stanojlović
Kraj marta spremio nam je, sem dolaska proleća, a možda baš i tim povodom, pregršt
sjajnih muzičkih dešavanja. Sinoć smo, kao početak ovog sjajnog niza koncerata, u Nišu imali dva koncerta, Škrtice i Viva Vox, i situaciju da čovek ne zna gde bi bre. Na koji god koncert da krenete znali ste da ćete uživati ali i da će vam biti žao što ste propustili onaj drugi. Mi smo se teškog srca odlučili za Viva Vox i naravno sjajno se proveli.
Neposredno pre koncerta održana je pres konferencija na kojoj su Boris Balunović, Marko Čapljić i Jasmina Lorin razgovarali sa novinarima o svojim ranijim koncertima u Nišu, o ovim najavljenim, ali i o planiranim koncertima za leto u regionu. U momentima kada je novinarima ponestajalo pitanja članovi čuvenog hora su okretali uloge i postavljali pitanja novinarima. Ukratko, veoma prijatnih dvadesetak minuta tokom kojih smo saznali da
su Vox-ovci bili prijatno iznenađeni činjenicom da su prvi koncert rasprodali za nekoliko sati, da onako stidljivo razmišljaju da jednom probaju da napune i halu Čair, kao i da je, uz Beograd, Niš grad u
kojem su imali najbolji prijem kod publike, ali i da su im koncerti redovno rasprodati gde god da pevaju.
Početak koncerta je bio najavljen za 21h, ali je zbog ogromne gužve na vratima Doma Vojske početak ipak kasnio pola sata. Oko pola deset, kada su se popunile stolice u sali, hor je izašao na binu praćen jakim aplauzom.
Viva Vox i Nišlije se dobro poznaju, sinoć su se družili treći put u dve i po godine, neki su išli i na koncert u Areni, ali, ma koliko puta ih slušali, kada
zapevaju telo se samo naježi usled zvučnih nadražaja, tu nema pomoći sve i kad bi je neko hteo.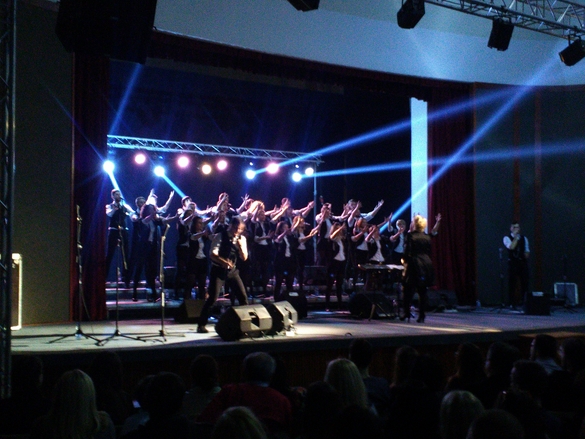 Među prvim pesmama našle su se Baba Yetu (Oče naš na svahili jeziku), Srce (EKV), Libar (Džiboni) i Ameno (Era). Odmah se videlo da nema tempiranja kako bi atmosfera rasla kako koncert odmiče, krenuli su iz sve snage i odmah pokorili publiku. Svaka pesma je ispraćivana snažnim aplauzom i vriskom, a svaki solista pravim ovacijama. Nastavili su sa ništa manjom energijom, smenjivali su se žanrovi i ritam, Queen, Beyonce, Depeche Mode, da bi nakon nekih sat vremena dirigent hora, Jasmina Lorin, više
u šali nego u zbilji publici rekla kako je to sve za večeras na šta je publika odgovorila horski snažnim "NE" i osmehom.
Do sledećeg, nešto ozbiljnijeg pokušaja da se završi koncert proteklo je malo više od pola sata a za
to vreme smo uživali u uvek odlično prihvaćenoj Du hast (Rammstein), ali i u pesmama grupa Prodigy, The Monkees… Ubedljivo najveće simpatije pokupio je Vladimir Vlada Lalić izvodeći pesmu Killing in the name (Rage against the Machine). Sa puno skakanja, padanja, mahanja stalkom i obaranja istog i glumom uz reči pesme oduševio je publiku koja ga je za trud nagradila gromoglasnim aplauzom. Upravo je njegova izvedba uspela da isprovocira ljude da se podignu iz stolica i da se i na taj način zahvale horu na večeri za pamćenje.
Usledio je improvizovani bis i nezaobilazne The show must go on (Queen) i Always look on the bright side of life (Monty Python), Viva Vox je iz tona u ton davao omaž ljudskom glasu, a publika je zdušno pomagala davajući im ritam. Kad smo kod ritma moramo da spomenemo i neverovatnog Tihomira Jovanovića koji svojim nemogućim bitboksom predstavlja temelj svake pesme.
Na kraju, da zaokruži dva sata uživanja, na drugom bisu hor je baš kao i prošle
godine koncert zatvorio pesmom Hajde Jano. Usledile su ovacije upućene beogradskom horu koji je polako odlazio sa bine.
Inače da napomenemo da kako su na pres konferenciji objasnili da će drugi koncert, 26. marta, biti po repertoaru isti ovom kako bi ljudi na oba koncerta mogli jednako da uživaju, u izveštaju se našao manji broj otpevanih pesama ( i neće biti plejliste) jer ne želimo da kvarimo zamisao članova hora i iznenađenje u publici.
Ono što je sigurno je da će Nišu za koji dan Viva Vox opet doći u goste i da će ispunjena sala Doma Vojske uživati u sjajnom koncertu. Svima koji budu tamo želimo lep provod.
Zbog
velikog interesovanja za koncert hora VIVA VOX u Nišu, koji je zakazan za petak, 18. mart u velikoj sali Doma Vojske,
a koji je rasprodat u roku od 24 sata, zakazan je i drugi koncert za subotu, 26. mart, sa početkom
u 21:15h!

Ulaznice u prodaji za drugi koncert po istoj ceni od 1.000 dinara za
parter i 800 dinara za balkon biće u prodaji
od petka, 11. marta 2016. na sledećim lokacijama: Biletarnica Doma Vojske
– Sinđelićev Trg
bb, Energy music shop – TPC Kalča prizemlje, Obrenovićeva bb i Vintage shop – Davidova 9.
Jedinstveni hor sa ovih prostora VIVA VOX, poznat po
svojim "a capella" obradama poznatih pop, rok i džez pesama će održati koncert u Nišu u petak, 18. marta u sali Doma Vojske, sa početkom u 21h.
Ovo će biti treći nastup hora VIVA VOX u Nišu, a dosadašnja gostovanja na Nišville jazz festivalu 2014 i početkom jula 2015. godine u
dvorištu Univerziteta ostavila su snažan utisak na ovdašnju publiku i neizbrisiv trag u razmeni pozitivne energije.
Ulaznice
u prodaji po ceni od 1.000 dinara za parter i 800 dinara za balkon od četvrtka, 3. marta 2016. na sledećim lokacijama: Biletarnica Doma Vojske – Sinđelićev Trg bb, Energy music shop – TPC Kalča prizemlje, Obrenovićeva bb i Vintage shop – Davidova 9.
Vebsajt hora
FB stranica
FB event
Jutjub kanal