Objavljen program glavnog i pratećeg dela Nišvila
Danas je održana prva od pres konferencija koje prate Nišvil džez festival. Na njoj je objavljen kompletan program glavnog dela festivala i dobar deo pratećeg programa. Ivan Blagojević, direktor Nišvila, najavio je 80 koncerata na 7 bina i 560 muzičara iz 20 zemalja koji će svirati pred niškom publikom. Blagojević je izrazio zadovoljstvo kvalitetom programa jubilarnog, dvadesetog po redu festivala, uz bojazan da je ovo izdanje, zbog nerazumevanja od strane Ministarstva kulture – Labudova pesma Nišvila.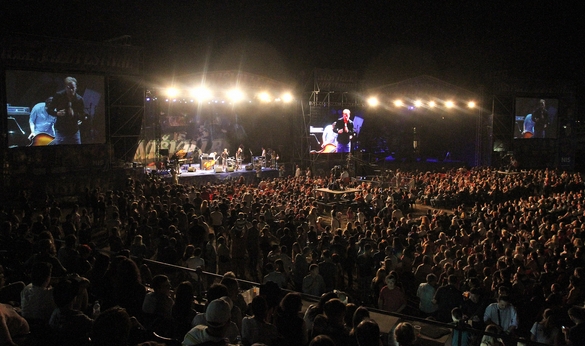 O popularnosti niškog džez festivala govori i veliki broj prijavljenih kandidata za volontere. Naime, za volontiranje se ove godine prijavilo 711 kandidata iz 17 zemalja. Nišvil će, nakon obavljenih intervjua, objaviti spisak 350 izabranih volontera. Volonterska prozivka je već zakazana za 8. avgust, tradicionalno kod spomenika Šabanu Bajramoviću.
GLAVNI PROGRAM
Četvrtak, 14. Avgust
1. Moba feat Oliver Katić ( Uručenje nagrade za životno delo Nadi Pavlović)
2. Vaja Balkanska i orkestar 50 gajdaša (BUL)
3. The Cookers (USA)
4. Dorado Schmitt Quartet (FRA)
5. Tania Maria 4tet (BRA)
6. Zuralia Orchestra (ROM)
Petak, 15. Avgust
1. Assaf Kehati Trio (ISR)
2. Manglares (MEX)
3. Brussels Jazz Orchestra (BEL)
4. Vlatko Stefanovski i Miroslav Tadić (MAC/SER/USA)
5. Candy Dulfer (NL)
6. Vlada Maričić band (SER) feat. Nidia Moya (CUB)
Subota, 16. Avgust
1. Irena Blagojević Band (SER)
2. Vox Arsana and Big Band DOM (SLO)
3. Empirical (GB)
4. September (SLO)
5. Viva Vox (SER)
6. Mop Mop (GER/ITA)
7. Estudiantina Orchestra (NL/CUB)
Nedelja, 17. Avgust
1. Fish in Oil (SER)
2. Takamen Nobuki (JAP)
3. Daniel Marques trio (BRA)
4. Iyeoka (USA)
5. The Originaly Blues Brothers Band (USA)
6. Proces (SER)
Prateći program (besplatan)
River Stage (13. Avgust)
Estudiantina Orchestra (CUB/NL)
Roma Neno Project (BUL)
Zuralia Orchestra (ROM)
Tribute to Šaban Bajramović (INT)
Open Stage (14- 17. Avgust)
Bricks and Cans (BG)
Kvantno Polje (NS)
Underdogs (NI)
Ničim izazvan (Vrbas)
Di Luna Blues Band (BG)
Rap trio (LE)
Libercuatro (BG)
Rebel band (BG)
Jeuns (NS)
Peting blues band (NS)
Putnik u tramvaju (PA)
The Highlanders (UE)
Tune (NI)
Milan Petrovic band (BG)
Morre (CAN) ………
Youth Stage (14- 17. Avgust)
Čudesmo (ČA/BG) Tevarbulebra (NI) Sound Underground (USA) Jayus jazz trio (NI) Greenfingers (NI) Oganj (VR) Cockblockers (KG) Jam Station (NI) Master Flow & Bandtronica (NS) Jazzva Band (SU) Irina Jovanovic (USA) Sanja Vranić i S.K.A. Omladinski Orkestar projekta "Jazz – A Multicultural Expression" Pobednici konkursa NIS- a i Nišvilla ……….
Welcome Stage (14- 17. Avgust)
MatineStage (14- 17. Avgust)
Movie Stage (14- 17. Avgust)
Midnight Jam Session Stage (14- 17. Avgust)
Nišville na Kolarcu (16. Avgust: BJO & Eyot)
Nišville u Vranju (15. Avgust)
Nišville u Aranđelovcu (16. Avgust)
………
Jazz teatar (Dvorište Banovine, 12. i 13. Avgust )
Kokoške su na Jazz-u
Naručeni balet
Izložbe (12 – 17. Avgust )
Philip Paquet – Jazz Graphic Novels
Dimitar Traychev & Maria Zafirkova – Jazz Icons
Izložbe fotografija sa prethodnih izdanja festivala……..
Promocije i tribine (13- 17. Avgust)
Svetolik Jakovljević – Jazz knjige
World music magazin "Etnoumlje"
Promocije jazz stripova……………….