Humanitarna rok svirka u SKC-u – 9. i 10.04.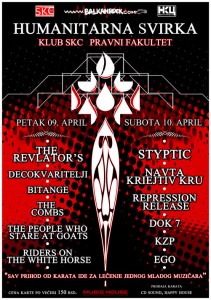 Rok koncert humanitarnog karaktera, u organizaciji NKC-a, SKC-a i udruženja građana Balkanrock održaće se 9. i 10. aprila u sali Pravnog fakulteta (SKC).
Koncert je organizovan sa ciljem prikupljanja novčane pomoći za lečenje mladog niškog muzičara Srđana Mitića, basiste sastava "Riders of the white horse".  On je, u svojoj 16-toj godini, oboleo od multiple skleroze, ali s obzirom na rano otkrivanje bolesti postoje šanse za njegovo izlečenje.
Cena karte PO VEČERI biće 150 dinara, a moći će da se kupe u "Happy House"-u (TC Kalča) i CD Sound-u (Novi podzemni prolaz). Sav prihod ide za lečenje Srđana Mitića.
Satnica i raspored bendova:
Petak, 9. april:
21:00 "Riders on the white horse"
21:40 "The Combs"
22:20 "The people who stare at goats"
23:00 "Bitange"
23:40 "Decokvaritelji"
00:20 "The Revelators"
Subota, 10. april:
21:00 "KZP"
21:40 "Ego"
22:20 "Dok 7"
23:00 "Repression Release"
23:40 "Navta Kriejtiv Kru"
00:20 "Styptic