Dešavanja u klubu Feedback za 8.1. i 9.1.2010.
U petak vas u Feedbacku očekuje Jazz Night :
Posle dužeg vremena u našem klubu čuće se pravi jazz-funk-fusion bend. Zovu se TERMINAL FOUR i čine ih već prekaljeni muzčari:Milan Mutaović-Muta(ex Oke Connection,Plan 9)-gitara,Dejan Ilijić(EYOT)-klavir,Ivan Jelenković-bass(producent i studijski muzicar mnogim bendovima u Francuskoj),i Darko Kojić(ex Fuse Quartet,Oke Connection)-bubanj.

Ocekujte furiozne obrade John Scolfielda,Miles Davisa, Medeski, Martin,Wood-a… Posle svirke pozivaju se i ostali muzičari na jam session…

Ulaz 100 din.
Za subotu malo drum and bassa. DJ Trenchtown Senior.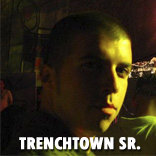 Srđan Trenčić, koji radi pod imenom Trenchtown Senior, nastupa po prvi put u novoj 2010 god.u klubu Feedback. Jedan je od pionira Drum and Bass zvuka u ovom gradu i dobro poznaje istorijat ovog žanra. Svojevremeno je bio saučesnik u dovođenju LTJ Buckema na ovo močvarno tlo. Trenchtown Sr. svoj set često zna da "vrati" korenima i furiozni ritam preseče ogoljenim reggae zvukom, a znajući ga očekujte i dosta dubstepa, dancehalla…

Ulaz je free.
Facebook event pages :
– Jazz night
– DJ Trenchtown Senior