Nemanja Kostić, talentovani DJ / Producent rodjen 1989. godine u Prizrenu, Srbija.
Svoje interesovanje za elektronsku muziku pokazao je davno, još od 15.godine je bio inspirisan zvucima elektronske muzike. Na kraju 2006. počinje da producira svoju muziku "čisto iz hobija"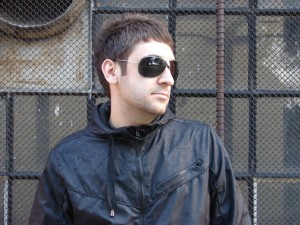 Njegovo prvo debut izdanje "Back In The Galaxy EP" izašlo je za Bugarsku izdavačku kuću Seaburn Records.
Posle kraće pauze on izdaje 2009. godine "Time Travel EP" za Kolumbijsku izdavačku kuću Melodic Records.
Na ovom izdanju izdvaja se traka "Return Journey" koja je postala omiljena u tracklistama eminentnih DJ-eva !
Dobro je da se pomene da je izdao traku "Lost In Time" za kompilaciju "Summer Movement" 2009 za holandsku etiketu "Manual Music".
Posle toga izdaje "Satellite" za čuveni friskyRecords gde ga na izdanju remixa argentinska zvezda u usponu Niko Fantin. Ubrzo nakon toga izdaje za dansko / italijanski label Emotive Sounds.
Do sada Nemanja je remixovao i producirao za izvođače kao sto su:  Derek Howell, Cid Inc, Jairus Miller, DJ Ax, Jelly For The Babies, Argon Sphere, Fyono… Muzika koju on producira moze se klasifikovati kao progressive house sa jakim zvukom, I sa elementima trance, minimal i ambient muzike.
Nemanja trenutno živi u Nišu gde studira ekonomiju i priprema nova izdanja i remixe za razne izvodjače.
Kontakt :
Nemanja Kostić
Producer | Dj | Mastering Engineer
Email:
info@nemanjakostic.com
nemanjakostic43@yahoo.com
Web:
http://www.nemanjakostic.com
http://www.myspace.com/nemanjakosticmusic
http://www.facebook.com/kostic.nemanja
http://www.twitter.com/noviEP
MSN: mclegenda@hotmail.com
——————————————————————————————————————————————————————————————————————————–
Nemanja Kostić, talented DJ / producer, was born in 1989 in Prizren, Serbia.
Since the age of 15 he showed his enthusiasm and has been inspired with sounds of electronic music.
By the end of 2006 he started his own music production as a hobby.
His first debut release "Back In The Galaxy EP" came out for Bulgarian label Seaburn Records.
After a short break, in 2009 he released "Time Travel EP" for Colombian Label Melodic Records. "Return Journey", the track from this release, became very popular and found its place in the tracklists of some eminent DJ`s. It's also important to mention that he released a track "Lost In Time" for compilation "Summer Movement" 2009 for Netherlands label "Manual Music".
After this he releases the "Satellite" for the famous friskyRecords and it gets remixed by Niko Fantin, a rising star from Argentina. Soon after this he releases for the Danish/Italian label Emotive Sounds.
Until now, Nemanja has done remixes and produced for artists such as: Derek Howell, Cid Inc., Jairus Miller, DJ Ax, Jelly For The Babies, Argon Sphere, Fyono ..
The music he produced can be described as progressive house music with massive sound, and with some elements of trance, minimal and ambient music.
Nemanja is currently living in Niš, Serbia, where he studies economics and prepares new releases and remixes for various artists.