Tako to radi sveCki mega car
Banovina, možda i najbolji prostor za svirke koje imamo u gradu, ponovo radi. Zaista je šteta što se takav kapacitet više ne koristi za slična dešavanja. Rambo i Mutant Dance Sextet bili su odličan izbor za otvaranje i nadamo se početak uzbudljive letnje koncertne sezone.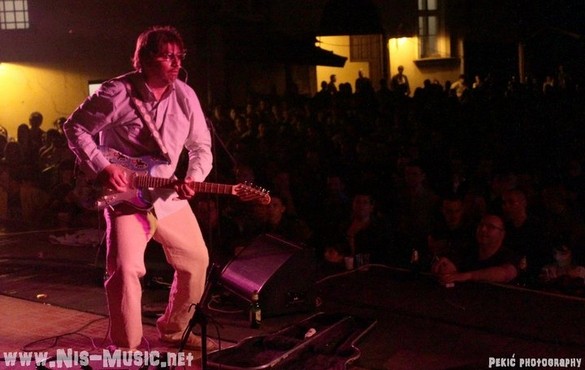 Koncert je počeo oko 22h. Ne zameramo na kašnjenju jer vredi čekati prepoznatljiv kvalitet kakav odlikuje Antonija Pušića, u narodu poznatog kao Rambo Amadeus. Fuzija džeza, roka, fanki ritmova je razmrdala Nišlije i verujemo svim pridošlim ulepšala veče.
[youtube]http://www.youtube.com/watch?v=o0jwbeH51U0[/youtube]
Pored već ustaljenih "To smart for rock and roll, stupid for jazz", "Urbano, urbano", "Beton, beton" i neizbežne FAP mašine, niška publika je imala priliku da čuje, ne često izvođenu pesmu o Zastavniku Džemi u mixu sa čuvenom "Jedno te isto".
Desetak minuta pošto su navršena dva sata od početka koncerta, nakon dva bisa, RASMC je, prema našem utisku, zadovoljan završio niški koncert.
Rambo, care, dođi nam opet 😉
[youtube]http://www.youtube.com/watch?v=vbMq4Lvr2fw[/youtube]